Hobby gardeners are elevating their passion to the next level. As they delve deeper into the art of gardening, they are embracing more advanced techniques, experimenting with new plant varieties, and investing in tools and technologies to optimize their garden's productivity. This growing trend reflects a desire for greater self-sufficiency, healthier lifestyles, and a stronger connection with nature.
Hobby gardeners are becoming dedicated cultivators, driven by the joy of nurturing their green spaces and reaping the rewards of their efforts.
The distinction between a hobby greenhouse and a commercial greenhouse companies primarily lies in their scale and purpose. A hobby greenhouse is typically intended for personal use, providing a space for individuals or small groups to grow food and flowers for personal consumption or sharing with friends and family.
On the other hand, a commercial greenhouse is designed for profit, aiming to produce crops on a larger scale for sale in the market.
Despite the difference in scale, designing a small-scale hobby greenhouse can be just as meticulous as preparing a business plan for a commercial venture. As the interest in community gardens and small-scale food production grows, so does the popularity of custom-built growing spaces and greenhouse kits.
These options cater to hobbyists seeking to cultivate their produce sustainably and in controlled environments.
The cost of building custom greenhouses can vary significantly depending on the geographic location, and size is often a crucial factor in budgeting for a personal greenhouse project. Hobby greenhouse owners must carefully plan and consider their specific needs, budget constraints, and available space to create an effective and efficient growing environment.
Furthermore, hobby greenhouses offer flexibility in design and size, allowing individuals to tailor the greenhouse to their preferences and available space.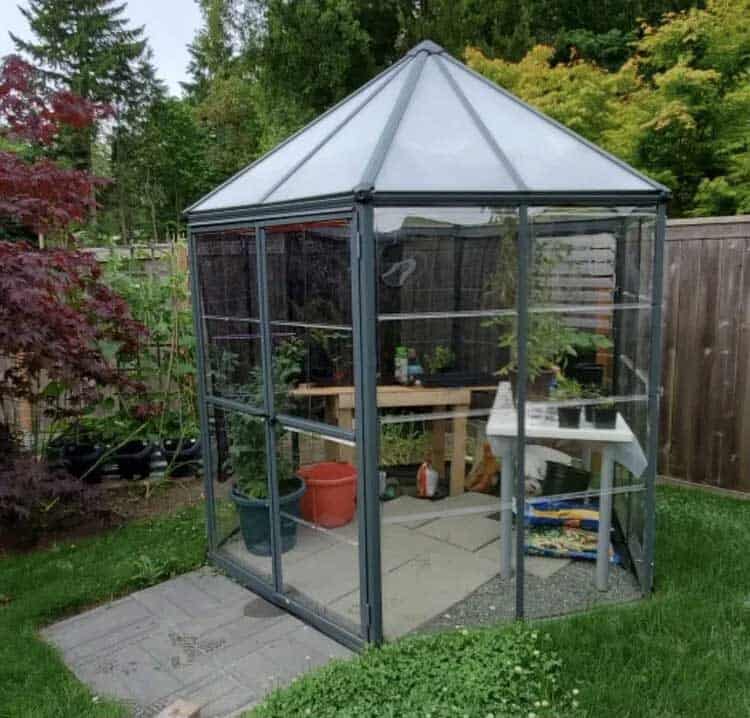 While they may not require the same level of infrastructure and technology as commercial greenhouses, hobbyists often invest in equipment such as temperature control systems, proper ventilation, and irrigation setups to ensure optimal conditions for their crops.
Similarities & Differences Between Commercial And Hobby Greenhouses
Commercial Greenhouses
Profitability and Efficiency
Commercial greenhouses are meticulously designed and operated with profitability as the primary goal. Every aspect, from the choice of crops to the layout and technology, is optimized to maximize yields and minimize costs. The focus on efficiency extends to resource management, such as water and energy usage, to ensure a competitive edge in the market.
Given their larger scale and commercial purpose, commercial greenhouses require sturdy construction to withstand various environmental challenges. They often face exposure to harsh weather conditions, necessitating the use of thicker steel and more bows for structural integrity. This robust design ensures the greenhouse's longevity and resilience, safeguarding the valuable crops within.
Commercial greenhouses come in a range of sizes, with some spanning vast areas of land to enable cost-efficient mass production. Commercial greenhouses allow for extensive cultivation and increased productivity on a commercial scale.
Efficiency and productivity are enhanced through practical features in commercial greenhouses. Larger doors at each end facilitate easy movement of equipment, machinery, and harvested produce. The design prioritizes smooth workflows and easy access for workers, making daily operations more streamlined.
Advanced Ventilation Systems
With a large production area to manage, commercial greenhouses incorporate sophisticated ventilation systems. Powerful exhaust fans, adjustable intake shutters, and light traps are employed to achieve precise climate control, ensuring optimal growing conditions for the crops.
Commercial greenhouses are equipped to accommodate every phase of crop production. From propagation to cultivation and harvesting, the greenhouse provides ample space and well-organized facilities for a seamless workflow. 
To boost productivity and maintain consistent quality, commercial greenhouses employ advanced technology and environmental controls. These systems monitor and regulate factors such as temperature, humidity, and lighting to create the ideal conditions for crop growth. Automation further streamlines processes, allowing for more efficient resource allocation and management.
Also Read: High-Tech Water Features Are All the Rage: How Do They Work?
Hobby Greenhouses
Focus on Fun and Production: Hobby greenhouses serve as both a productive space and a source of enjoyment for their owners. Gardening enthusiasts find pleasure in nurturing plants while creating a harmonious environment for growth. The greenhouse becomes a personal sanctuary where hobbyists can escape the daily grind and immerse themselves in the world of gardening.
Unlike commercial greenhouses primarily focused on efficiency, hobby greenhouses may prioritize aesthetics, especially when located near residential areas. The greenhouse's architectural design can be creative and complement the surrounding landscape or the owner's personal style, enhancing the overall appeal of the property.
Hobby greenhouses are generally smaller in scale, providing ample space for hobbyists to pursue their gardening passion without overwhelming maintenance requirements. This smaller size allows for more hands-on and personalized care for the plants, contributing to the hobbyist's sense of fulfillment and connection with the crops.
As hobbyists may have budget constraints, hobby greenhouses are often constructed with cost-effective materials and features. While still maintaining functional integrity, the design emphasizes affordability, allowing enthusiasts to pursue their gardening hobby without excessive expenses.
In contrast to the complex ventilation systems found in commercial greenhouses, hobby greenhouses may use simpler methods like roll-up sides or manually adjustable vents. These ventilation solutions maintain proper airflow and temperature control, sufficient for the smaller greenhouse size and crop variety typically grown by hobbyists.
Automation for Enthusiasts
Some passionate hobby greenhouse owners invest in automation to create a sophisticated growing environment. While not essential, automation can allow hobbyists to explore advanced techniques and technology, resulting in optimal plant health and productivity.
Hobby greenhouses often showcase a diverse range of plant strains or entirely different crops, driven by the owner's specific gardening interests. This diversity allows hobbyists to experiment with various crops and growing techniques, catering to their individual preferences and passions within the realm of gardening.
Also Read: A Guide to Keep Your First Home Looking Brand New for Years
Conclusion:
Depending on your purpose, you can choose the type of greenhouse that will meet your requirements. A gardener's enthusiasm is reflected even in the harshest of climates where hobby gardeners have been known to grow rhododendrons in deserts and display variety cactus in cold climates. Make it a part of your garden or venture.