Looking for ways to keep your budget low but have a satisfying makeover? Then what better place to start than your brick backsplash?
Brick is a fantastic look that goes with any decor. If you've got brick in your kitchen remodeling, you have a unique aspect to your look that a tile or glass backsplash does not have.
What goes well with a brick backsplash? Well, we've got the basics covered for you.
Look below at the tips for styling a brick backsplash in your kitchen. Continue reading!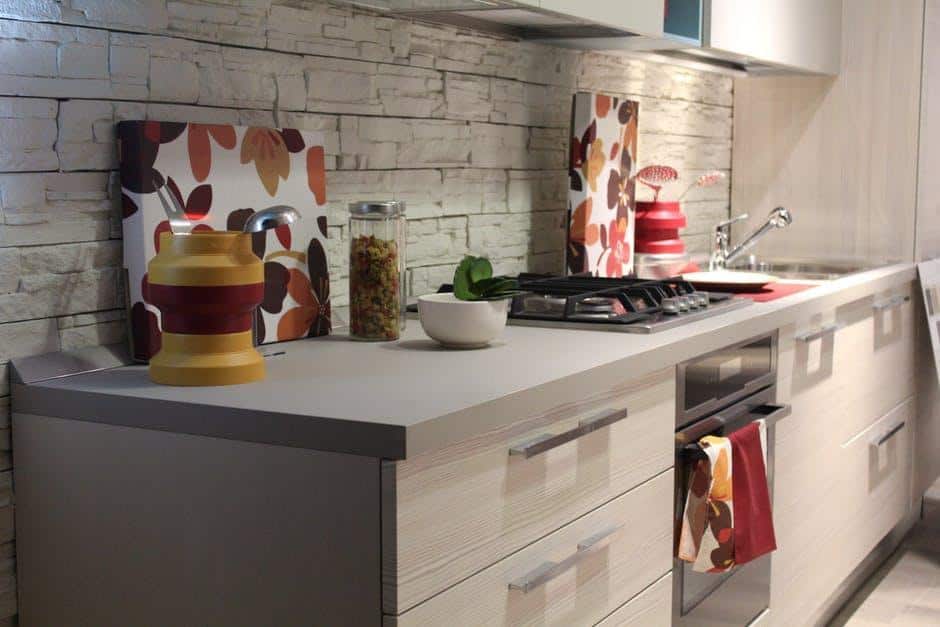 1. Choose the Right Brick Style
There are various types of bricks to choose from, such as traditional red brick, whitewashed brick, and even faux brick options. It needs to consider the aesthetic of your kitchen and choose a brick style that complements it.
A classic red brick would be a great choice if you have a more traditional or farmhouse style. Traditional red brick can add a rustic and cozy feel.
Yet, a whitewashed or gray brick may be a better fit for a more modern or industrial look. Whitewashed brick can create a more contemporary look.
Faux brick is an excellent option for those on a budget, as it offers the look of brick without the high cost. By selecting the right brick style, your kitchen backsplash will enhance the design, creating a timeless and charming space.
If you want to ensure a better look of your backsplash, it is best to consider the Kitchen Remodeling and Renovation Contractor when choosing the brick style.
Also Read: My Kitchen Faucet is Leaking at Base! What Now?
2. Consider Brick Layout
When it comes to styling a brick backsplash in your kitchen, one of the most important things to consider is the layout of the bricks. A brick layout can impact your kitchen's look and feel. Whether you choose a classic running bond pattern or a more modern herringbone design, the structure can affect the look of your kitchen.
For a more traditional and cohesive style, stick with a uniform pattern. Mix many brick sizes and designs for a more exciting and unique look.
Make sure to plan out the layout beforehand to ensure the gaps are manageable. Remember, the brick layout will set the foundation for your backsplash design.
3. Seal the Bricks
This protects the bricks from moisture and stains and adds a glossy finish for a more polished look. To seal the bricks, clean them with a mild detergent and water.
Allow them to dry completely before applying a penetrating sealer with a brush or roller. Be sure to cover all surfaces and allow it to cure according to the manufacturer's instructions.
You can also choose a glossy sealant for a more modern and polished look. Whether you choose to use a spray or brush-on sealant, be sure to follow the manufacturer's instructions for best results.
Once the sealer is dry, your brick backsplash will be ready to withstand the test of time and look stunning in your kitchen renovation. Sealing your brick backsplash will not only make maintenance and cleaning more accessible but also elevate the look and feel of your kitchen.
4. Color Coordination
Consider the color scheme of your kitchen and choose a brick shade that complements it. Choose a color palette that complements the natural hues and textures of the brick.
Consider warm tones like taupe, ivory, or olive green for a cozy and inviting feel. At the same time, bolder backsplash options like red or black can add a statement pop of color. Another tip is to incorporate pops of color through accessories such as dish towels, vases, or decorative plates. This will add visual interest without overwhelming the space.
Think about the color of your cabinets and countertops, and select a grout color that will tie everything together. Feel free to mix and match different shades of brick to create a unique and layered look. Remember, the key to a successful brick backsplash is finding the perfect balance between color coordination and variety.
5. Lighting Matters
Lighting is crucial in enhancing its aesthetic when styling your kitchen. To make the brick stand out, it's essential to have the right lighting balance.
Choose warm and soft lighting to create a cozy and inviting atmosphere. This will bring out the natural tones of the brick and make it more appealing. If your kitchen lacks natural light, choosing the proper artificial lighting is essential.
Incorporate task lighting above the cooking and prep areas to provide ample light for cooking and food preparation. Consider adding accent lighting, such as small track lights or LED strips, to highlight the texture and depth of the brick. With these tips, your brick backsplash will be the highlight of your kitchen.
6. Accessorize Thoughtfully
This means choosing the right pieces to enhance the rustic and charming look of the brick. This can include metallic accents, like copper pots and pans, to add a modern touch. Consider adding pops of color with plants, dish towels, or a bowl of fresh fruit. This adds visual interest and helps soften the harshness of the bricks.
Hang decorative wall art or shelves to add personality and texture. Opt for simple and minimalistic accessories to keep the brick as the focal point. For example, a sleek and modern utensil holder or a few small potted herbs can add functionality without overwhelming the backsplash.
Opting for functional accessories, such as hanging utensil racks or floating shelves, can add style and use vertical space. Being intentional with your accessories can enhance the look and feel of your brick backsplash in the kitchen.
7. Balance Textures and Materials
You can create a cohesive and appealing space by balancing textures and materials. Pair the roughness of brick with smoother materials, such as marble or sleek countertops. This will add contrast and create a dynamic look.
Additionally, incorporating different textures, such as wood or metal accents, can further enhance the balance in your kitchen. To complement the brick and add visual interest, try containing other materials, such as wood or metal.
It's also important to consider the color palette and ensure that the textures and materials chosen all work together. Following these tips when installing a backsplash will make the perfect addition to your kitchen design.
Also Read: 5 Things To Know Before Redecorating Your Kitchen
Guide When Styling a Brick Backsplash
A brick backsplash in your kitchen can add a unique, rustic touch to your space. You can create a styled and functional kitchen with the right tips and techniques.
Remember these tips when styling your brick backsplash and transform your kitchen into a stunning and inviting space. Ready to give your kitchen a new look? Start implementing these tips today!
Did you enjoy reading this article? Explore our site for more ideas and inspiration.