Cryptocurrency is a digital currency that isn't tied to a specific bank or government. That means you can use your currency anywhere in the world, even if it's not recognized as legal tender in your home country. Cryptocurrencies run on blockchain technology, which is essentially an online ledger of encrypted transactions to ensure security.
Cryptocurrency can be used to buy services and goods. However, many people buy cryptocurrency as an investment, hoping that the value will go up so they can sell it for more than what they paid for it later on. Ultimately, you need to learn more about investing as a whole, especially when you consider the fact that cryptocurrency is not regulated by any central authority.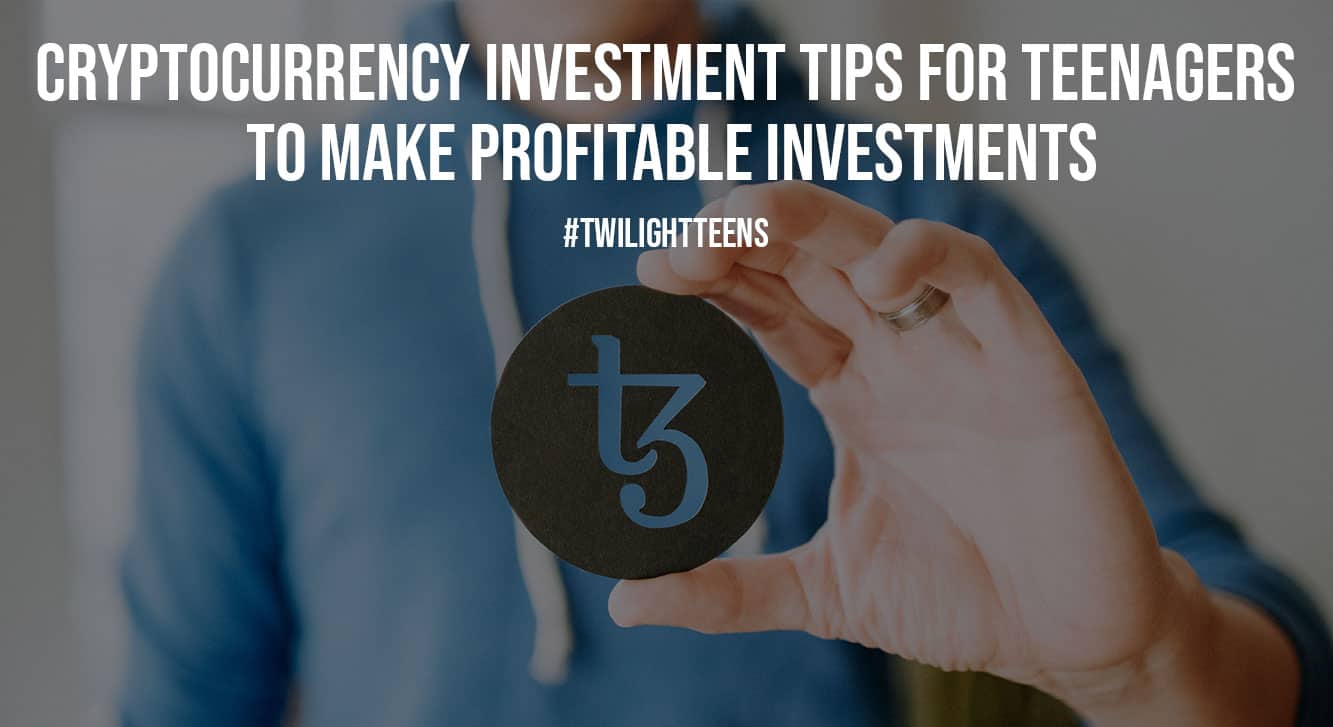 So, there's no agency ensuring its value or making sure things are done fairly and legally. Here are some tips for Teenagers to benefit from the crypto investments:
1. Better Know the Market
To make smart investments, you must first understand how the market works. Do your research into the ins and outs of cryptocurrency.
Read books and articles about cryptocurrency trading, or subscribe to a newsletter for insights and analysis on the cryptocurrency markets.
Speak with experts about cryptocurrency trading. They can provide you with valuable advice on what to invest in and which times are best for buying and selling cryptocurrencies.
Understand that there are risks associated with any investment, including cryptocurrency investing. Be aware of these risks before investing your hard-earned money in cryptocurrencies.
Understand that the market is volatile; prices can change quickly up or down at any time without warning.
Also Read: How to Educate Yourself Online Effectively?
2. Wait for the Right Moment to Buy
Investing in cryptocurrency is like buying anything else that has value; the best time to buy is when the price is low.
Similarly, the best time to sell is when it is high, so this requires you to have a good understanding of market trends and know a thing or two about spotting trends and market changes. 
If you invest in a cryptocurrency at its highest price ever, then it will be very hard for you to make any profits from your investment, no matter how long you wait.
This point makes investing in cryptocurrency slightly more difficult than other types of investments for teenagers.
Because Bitcoin and Ethereum are typically the largest cryptocurrencies by market cap (though we are seeing some new contenders recently), their prices tend to be higher than other coins with lower market caps. 
It means your money goes further by buying smaller coins with better potential for growth (or at least gains from their starting price).
You can also keep an eye on these new coins before they hit exchanges. So, you can track them yourself and start accumulating them as soon as possible once they become available.
Also, check out Bitcoin SV for crypto currency-related updates!
3. Do Not Act Impulsively
Once you have decided on your purchase, do not rush to make it right away. You will have time to think about your purchase, and if you feel confident about what you are going to buy, then go ahead with the purchase. If you are unsure or have any doubts, you shouldn't make the purchase.
Cryptocurrency value may drop a few hours after you make your purchase, so consider this when deciding how long to think about your decision.
Doing research will help in removing doubts from your mind, and this is something that I cannot emphasize enough for anyone who wants to invest in cryptocurrency.
When you invest in cryptocurrency, whether it be Bitcoin or other cryptocurrencies, there is always a risk that the value will drop below what you paid for it when compared with the fiat currency (the national currency). 
However, if you do proper research, this risk can be minimized by a significant amount and also ensure that there won't be any surprises along the way that might cause panic selling of assets at lower prices than intended.
4. Be Disciplined and Stick to Your Strategy
The idea is to be disciplined and stick to your strategy. Do not make impulsive decisions because that may lead to you making sporadic trades that may result in losses.
Remember, it's always better to walk away when you feel you have made enough profit or limited your losses than it is to overstay your welcome. You see, the market has a way of punishing overly eager traders.
Again, do not invest more than you can afford to lose in the bid to reap maximum profits. It may take time before you become a seasoned investor but until then, be cautious while trading cryptocurrencies.
It ensures that you go home with most of your profit and cut back on losses as much as possible. Not every trade will end up in profit, and this is something no one can change regardless of how hotshot they are as a trader.
Set limits for yourself even as you trade so that if things do not go according to plan, then there won't be too much damage caused by these unfortunate events.
Follow this rule and watch how much better off you will be compared to others who are undisciplined and haphazard with their cryptocurrency investments.
5. Diversify Your Portfolio Risks
Invest in more than one cryptocurrency. A diversified portfolio would not only help you reduce market risks but also increase your chances of making high returns. A rule of thumb that you should follow is to invest in at least five different cryptocurrencies.
Invest in both cryptocurrency and traditional markets. As a teenager, the funds that you have are limited, so it's always important to make these investments wisely. Investments in conventional markets bring stability to your portfolio, while crypto investments maximize your earnings potential.
This strategy will help you get the most out of every dollar that you invest and ensure that you do not lose all your money on specific assets or blockchains.
Invest in both cryptocurrency and other assets. The more options on the table, the better it is for any investor. Cryptocurrency is not an exception; if your teen has money to spare, they can use some of those funds for real estate or gold too.
These alternative investments are less volatile but still yield decent returns over time. This makes them great additions to a portfolio full of unstable digital assets like Bitcoin and Ethereum (ETH).
Understand Cryptocurrency Markets Before Investing
The market can be difficult to understand, and it's hard to know the right time to buy and sell. It's a good idea to study the market ahead of time so you'll know what's going on.
Understanding the market will make it easier for you to make decisions about your investments, which will help you avoid losing money.
It may take some time before your investments pay off, but if they do, they will be worth it!
If you are interested in investing in cryptocurrency but do not have much experience with it, I would suggest doing some research first. Investing is a big decision and should not be taken lightly or rushed into! There are many resources available online for learning about investing.
You might also consider working with an experienced financial advisor who can help guide your investment decisions based on their knowledge of markets and history and your specific goals.
Also Read: How to Look Good on a Budget?
Invest with the Right Approach
With the right approach and proper guidance, cryptocurrency investments can be a lucrative way for teenagers to make money. Take your time to study the market, and you will get a feel for when it is the right time to buy and sell.
Remember that cryptocurrency prices are volatile, so you might lose some money along the way. But if you are patient enough, it can pay off in a big way.
There is no guarantee that you will become rich overnight by investing in cryptocurrency, but who knows? Maybe your risks will pay off and leave you with a sizable profit!